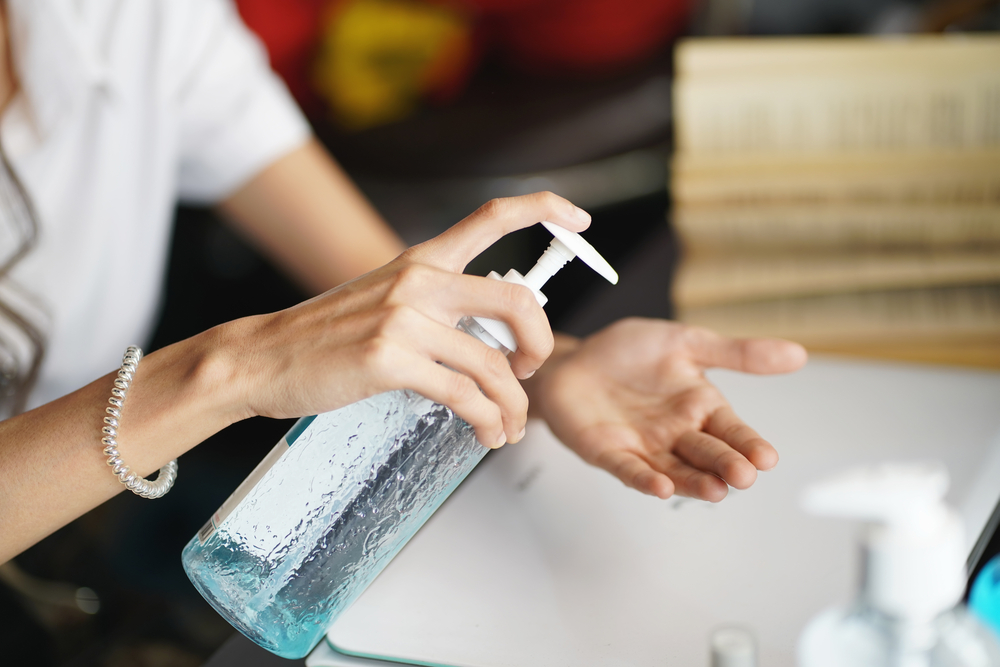 I'm thrilled to share with you a special Facebook Live video I did with my community around the world, with the best information I can give you about how to stay healthy and happy during the coronavirus (COVID-19) global challenge. This live presentation was seen not only by many of my clients, both current and former, but beyond our community, with more than 1,000 global views and counting. And I'm sharing it with you here so it can be seen and shared beyond Facebook.
Like many of my own clients, I am working from home and have my children at home, who are taking their classes online during the next few weeks. And as a health and wellbeing coach, I've been inundated with questions from my clients, and even my own team, about how we can reduce stress and anxiety in ourselves and in our circles, while continuing to be productive and be smart with what's going on in the world right now!
To help you get the best advice for staying healthy, I'm sharing strategies, tips and expert advice I've received not only in the last week but also over many years of being at the top of the health and wellbeing industry. These tips can make all the difference during a normal period for your health and wellbeing, and especially during these times when we're hyper-vigilant about keeping our immune system healthy and strong!
I reached out to my own integrative medical doctor, Edison de Mello, who shared several tips with me that I give in the first third of the video. We're firm believers in holistic health, which includes mind, body and spirit. And that means to also stay mentally and emotionally healthy, which protects our immune system!
I also stretched outside my comfort zone to offer some uplifting music and movement medicine by means of a dance party with everyone on the live video! (I tell my clients to dance like nobody is watching, and this was an opportunity to practice what I preach and dance while everyone was watching, including people outside our community.) This dance includes elements of my TranscenDance conscious dance modality for dancing away tense, stagnant, blocked energy for even greater vibrant health.
Here are some of the highlights from this video and the times stamps of where to find them:
At 5:00 mins:

You'll receive powerful and potent health tips, including a deep breathing exercise to reduce stress and stay healthy, pressing the "pause button" on fear and worry, and ways to have fun while staying at home!

At 13:30 mins:

I share a powerful Bubble of Light exercise to help boost your mind-body-spirit connection and boost your immune system, no matter what is happening in the world around you.

At 41:25 mins:

You'll get the best tips from Dr. de Mello at the Akasha Center for Integrative Medicine for what to do if you have symptoms. If your symptoms are mild, it's recommend you schedule a telehealth session instead of visiting your doctor's office or local hospital. To schedule a telehealth session with an Akasha doctor,

click here

.

At 45:50 mins:

I share a powerful essay from thought leader Anodea Judith about what the current coronavirus challenge means for you and for the planet. I also read a new poem called "Wash Your Hands" by Doreen Midnight, which really hit home for me.
I'm including those writings and all my notes from this Facebook Live session at the bottom of this blog post, including a great recipe for making your own hand sanitizer (it's also in the video at 30:30 mins)!
Discover more about my flagship health and wellbeing coaching program for women that specifically helps women boost their immune system by addressing the mind, body & spirit, while increasing confidence, and realizing your ideal body weight, abundant energy, and vitality! This is an IDEAL time to be focusing on our health and wellbeing right now. To discover more about my flagship Vibrant Healthy Woman Coaching Program click here: https://vibranthealthyliving.com/vhw/
To help support women during these challenging times, I have opened up my coaching office to provide Complimentary Vibrant Healthy Woman Consultations for anyone wanting some extra support right now. Click here to schedule a FREE Vibrant Healthy Woman Consultation.
Click here to follow me on Facebook and get my latest videos and announcements.
Check out Akasha Naturals, supplements that are: Medically Formulated. Backed By Science. Environmentally Sustainable. Click here to learn more about Akasha Naturals Immune Support, which my family and I take to boost our immunity. Akasha Naturals also sells other potent supplements to help you stay healthy, including Active Immunity, garlic capsules (allicin), and Antiox Restore. 
Now it's your turn! What did this video bring up for you? How are you staying healthy and supported during this current challenge? Leave a comment for the community below my video notes. We would love to hear from you!
To your Vibrant Health,

Here are the notes I worked off of while filming the video.
DO NOT PANIC…
-Deep Breaths (inhale nose and exhale mouth)
-Press the PAUSE button on worry – and replace thoughts of worry with a "safe place" – beach, cabin in the mountains – garden -etc… and connect to your heart chamber – who do you LOVE unconditionally – fill your golden bubble of protection with LOVE -
-Golden Bubble of Protection Exercise (in and all around you)
-Gratitude
-Have FUN (funny YouTube videos - Watch/read comics people and cartoons – watch comedy
-LIMIT THE NEWS -
-Play Board Games, Arts & Crafts – Gardening – Put fresh flowers in your home (order flower delivery)
-Hydrate - tons of water – hot tea and warm soup
-Eat MORE fresh, real organic fruits and vegetables
-BOOST with extra daily Vitamin C – Zinc – and immune support
-Do Yoga & Meditation – DANCE DAILY (5 mins counts)
-Make yourself an Epsom Salts Bath w/ some eucalyptus essential oils

Make your own hand sanitizer - Mix 3 parts isopropyl alcohol to 1 part aloe vera gel. Add a few drops of tea tree oil or vitamin e oil. Then add either 2 tbs. of witch hazel or vodka (150 proof or higher) for smell use your favorite essential oils (optional) Combine all ingredients in a bowl and store in a small squeeze tube to use "on the go".

EXPRESS LOVE (symptoms are in the lungs and throat – heart chakra and throat chakra –
-Tell someone you love them – text and email and call those you love
-Forgive yourself and others for any wrong-doing
-Deepen your own self-love (increase praise – gratitude – celebrate the little things in life)
-This is a time for PERSONAL RESET AND GLOBAL RESET
TIPS FROM DR EDISON DEMELLO:
Naturally, people with flu symptoms may have the coronavirus and want to be tested. At this time, however, it is neither a possibility nor a priority UNLESS THEY HAVE BEEN EXPOSED TO SOMEONE WHO HAS THE VIRUS.

Patients at the highest risk for complications are those over 65 y.o with a medical condition, anyone with an immune-comprising disorder such as diabetes, cancer, heart disease, etc. Most people recover well without any complications.

IF YOU HAVE SYMPTOMS AND ARE IN THE LOW-RISK CATEGORY, SELF-ISOLATE AND SCHEDULE A TELEHEALTH. Rest up, double your intake of fluids, take ibuprofen or Tylenol if you have a fever, and take care of yourself no-differently than if you had the flu. Click here to schedule a FREE 10-minute Akasha telehealth consultation.  

Symptomatic individuals SHOULD NOT GO TO THE ER or any facility unless advised by their practitioner. This will help curtail the spread of the virus and also protect your family members in case you're not infected but becomes infected upon going into an ER or clinic. This is not only to contain the virus but also to save on badly needed resources for those who are truly ill.

The only people who should go to the ER are those who have trouble breathing, high fevers and severe muscular-skeletal pain, among others symptoms. We will advise you during a telehealth consultation.

Should a patient need to be evaluated if they're sick, a CT of the lungs is recommended for some patients. Your Practitioners decide this with you.

For those who are not sick, testing is limited and will be prioritized to the elderly, the very young - and those with pre-existing medical conditions, such as lung disease, heart disease diabetes, etc.

TELEHEALTH is your best support right now. Click here to schedule a FREE Akasha telehealth consultation for telehealth virtual services.
Anodea Judith: PLANETARY HEALING

Imagine a science fiction movie where the corona of a planet becomes infected and everyone's life is threatened. The only way to solve the problem is global cooperation, which—in this movie at least—happens in time to offset calamity. But first the population had to make real changes, changes that at first seemed difficult, but then revealed hidden gifts.

Well, the corona of a planet is a pretty big thing—consider it to be the biosphere itself. But how big is that?

If you imagine reducing the planet to the size of a large balloon, a thin layer of paint on the surface would represent the entire biosphere. It may be wrapped around the entire planet, but it is fragile indeed.

This thin, coronal layer of plants, trees, and atmosphere, is everything that gives us life. And it's currently infected by an overreach of "flesh-eating bacteria" — namely humans that are over-consuming their resources.
Climate change is the fever, but the underlying disease is the unbridled consumption of Nature. Whether it's plastics in the ocean, deforestation, depleted fisheries, water shortages, or soil depletion, we are destroying our planetary corona. And a tiny coronavirus might just be nature's way of self-regulating. At the very least, it is teaching us how to live more sustainably.

The coronavirus is already a game changer. Yesterday I drove a friend to an appointment in what is usually bumper-to-bumper rush-hour traffic. The highway was a breeze—because so many were working from home. That's a lot of cars that are not spewing carbon into the air, and a lot of people having more time at home because they're not commuting. Hmm.
Even in the first two weeks of its onset in China, 200,000 flights were cancelled, resulting in a 25% reduction of China's total carbon emissions.

Now add the lockdown of Italy, with its empty streets, trains, and shopping malls, and we see that this microscopically small virus that threatens individual life, is having a global impact in the direction of relief to the biosphere.

Not that this is the best way to achieve this, any more than hospital surgery is a good way to lose weight. But it shows us that we can do it when we have to.

We can slow down the mindless consumption, the constant travel, and the busyness that plagues our lives, and actually be happier with the result.

Perhaps learning this lesson is the real medicine we need to combat the virus. If we can understand that climate change is an even bigger, more deadly threat than COVID-19, we just might be able to make the changes necessary.

Bill McKibben, noted climate activist, says he is now more optimistic that people can change."It's worth noting how nimbly millions of people seem to have learned new patterns. Companies, for instance, are scrambling to stay productive, even with many people working from home.

"The idea that we need to travel each day to a central location to do our work may often be the result of inertia, more than anything else. Faced with a real need to commute by mouse, instead of by car, perhaps we'll see that the benefits of workplace flexibility extend to everything from gasoline consumption to the need for sprawling office parks."
When we encounter a game-changer, it is worth asking, what is the game changing into?

When we figure that out, we can rapidly get on board and play to win.

HUMAN KINDNESS:

Wash Your Hands by Dori Midnight

We are humans relearning to wash our hands.
Washing our hands is an act of love
Washing our hands is an act of care
Washing our hands is an act that puts the hypervigilant body at ease
Washing our hands helps us return to ourselves by washing away what does not serve.

Wash your hands
like you are washing the only teacup left that your great grandmother carried across the ocean, like you are washing the hair of a beloved who is dying, like you are washing the feet of Grace Lee Boggs, Beyonce, Jesus, your auntie…
Like this water is poured from a jug your best friend just carried for three miles from the spring they had to climb a mountain to reach.
Like water is a precious resource
made from time and miracle
Wash your hands and cough into your elbow, they say.
Rest more, stay home, drink water, have some soup, they say.
To which I would add: burn some plants your ancestors burned when there was fear in the air,
Boil some aromatic leaves in a pot on your stove until your windows steam up.
Open your windows
Eat a piece of garlic every day. Tie a clove around your neck.
Breathe.

My friends, it is always true, these things.
It has already been time.
It is always true that we should move with care and intention, asking
Do you want to bump elbows instead? with everyone we meet.
It is always true that people are living with one lung, with immune systems that don't work so well, or perhaps work too hard, fighting against themselves. It is already true that people are hoarding the things that the most vulnerable need.
It is already time that we might want to fly on airplanes less and not go to work when we are sick.
It is already time that we might want to know who in our neighborhood has cancer, who has a new baby, who is old, with children in another state, who has extra water, who has a root cellar, who is a nurse, who has a garden full of elecampane and nettles.
It is already time that temporarily non-disabled people think about people living with chronic illness and disabled folks, that young people think about old people.
It is already time to stop using synthetic fragrances to not smell like bodies, to pretend like we're all not dying. It is already time to remember that those scents make so many of us sick.
It is already time to not take it personally when someone doesn't want to hug you.
It is already time to slow down and feel how scared we are.

We are already afraid, we are already living in the time of fires.
When fear arises,
and it will,
let it wash over your whole body instead of staying curled up tight in your shoulders.
If your heart tightens,
contract
and expand.
science says: compassion strengthens the immune system

It is already time to remember to hang garlic on our doors
to dip our handkerchiefs in thyme tea
to rub salt on our feet
to pray the rosary, kiss the mezuzah, cleanse with an egg.
In the middle of the night,
when you wake up with terror in your belly,
it is time to think about stardust and geological time
redwoods and dance parties and mushrooms remediating toxic soil.
it is time
to care for one another
to pray over water
to wash away fear
every time we wash our hands