Jennifer Jiménez
Professional Speaker, Author and Coach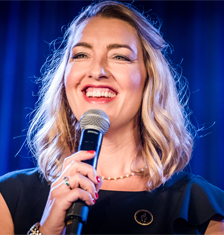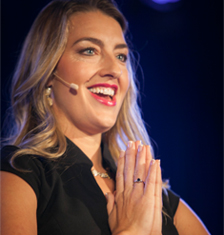 Areas Of Expertise include:
Health & Wellbeing
Body-Confidence
Self-Esteem
Proven Life-Balance Success Principles
Finding Your Purpose
Living Your Dreams
Passionate Marriage
Balancing Motherhood & Career
Popular Presentation Topics Include:
Unleash Greater Health, Energy & Vitality in just 5 Minutes a day!
8 Keys To Taking a Leap of Faith & Living Your Dream
6 Secrets To Unleashing Greater Self Confidence
3 Surprising Steps To Finding Your Life's Purpose
3 Ways To Infuse Your Fitness With More Fun
A Powerful 3-Step Method For Habit Change
Simple, yet highly effective work-life balance strategies
Jennifer would be happy to customize her talk topic to specifically fit your organization's or group's needs and desires.
Living by example: Jennifer helps and inspires thousands to open up to limitless possibilities for deeper self-love, thriving relationships, increasing health and vitality, finding and living their purpose & passion, and feeling accomplished and fully expressed.
Audiences also have the opportunity to discover Jennifer's 6 Pillars of Vibrant Healthy Living:
Creating A Vision & Deepening Your Mind/Body/ Spirit Synergy.
Embracing & Trusting Your Body Intelligence.
Flourishing with Food & Nourishment For Body, Mind & Soul.
Being Energized Through Joyful Movement You Love.
Allowing Your Authentic Amazing Self To Shine.
Expressing Your Purpose Even More & Fully Living Your Dreams with Courage & Confidence!
Audiences report feeling more confident and self-accepting with easy to implement tools and tips to balance the stresses of life, work and family. They discover tools to care for their mental, physical, and spiritual health and personal desires, without sacrifice and burnout. They also receive easy to implement tips to quiet the inner critic, feel more at home in their own skin and connected to their true authentic self. Audiences leave feeling uplifted, supported, inspired, motivated, and equipped to make simple changes that make a BIG impact in their lives.
Jennifer has spoken for well-known thought leaders and coaches, training institutions, yoga centers, athletic clubs, national school districts, large conferences, festivals, and organizations worldwide.
For a full list of speaking venues and speaking testimonials contact: clientcare@vibranthealthyliving.com
To book Jennifer as a speaker Email: clientcare@vibranthealthyliving.com or Call: 442-244-2333