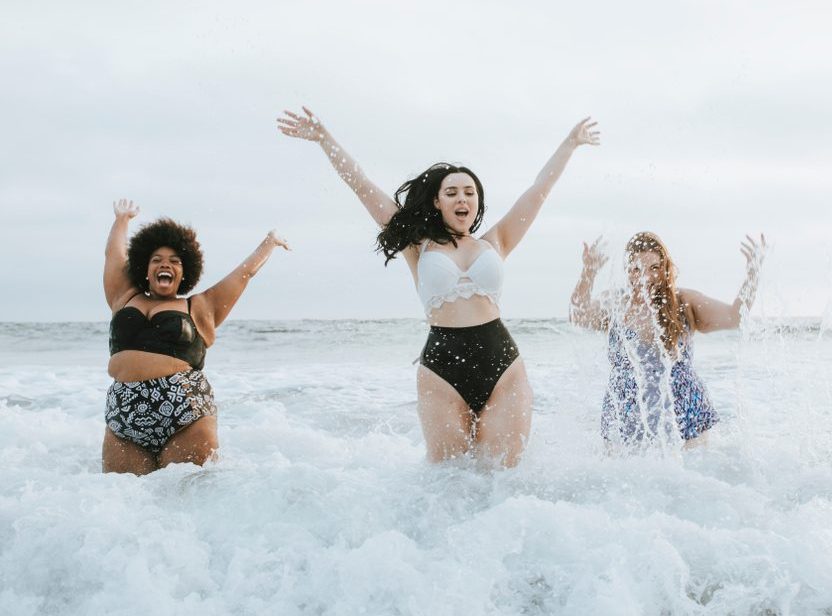 It's bathing suit season again! Are you bikini ready? 
What do you think and feel when you hear those words? Delight or dread?
When I was a professional modern dancer in my 20s, you would think that bathing suit shopping was fun, right?! Not at all. Because I suffered from an over-active inner critic, bathing suit shopping was stressful and dreadful every summer. Sometimes I'd even walk out of the dressing room crying because I felt so bad about my body. And I was actually underweight at the time.
I know I'm not the only one who has left the dressing room feeling bad about my body. Can you relate?
When you don't feel totally comfortable in your own skin, bathing suit or any type of clothes shopping can throw you into a dark tailspin of self-doubt, self-pity, and body shame.
I have good news! Over the past twenty years I have made friends with the woman looking back at me in the full length mirror and I am truly at home in my body temple now. I feel confident in my body no matter what size or shape she happens to be. I love finding fun bathing suits now, and I show off my curves with confidence. This shift into body freedom didn't happen overnight, and I have cracked the confidence code along the way.
I have found three keys I teach my coaching clients for how to get beach body confidence, and feel totally free in your body, and spoiler alert, it has nothing to do with what you weigh. 
Here are my 3 Keys for Beach Body Confidence & Freedom:
1) Know that being "bikini ready" or "beach ready" is a total myth! Nobody deserves to be adorned in a bathing suit more than another. 
I'm not saying not to have goals for your body, but I am saying that thinking your body isn't ready for the beach or for a bathing suit is just a total myth.
If you're a woman and you don't think you have a "bikini body," or if you're a man and you don't think you're ready because you don't have 6-pack abs, you can still step out with confidence. Know that nobody's really looking at you, because everybody's more concerned about their own self! People are too self-conscious about their own stuff to worry about how you look. So take that gorgeous "birthday suit of yours" no matter what size or shape it is, and give yourself FULL permission to go out and enjoy yourself!
2) Choose a bathing suit that makes you feel comfortable.
As someone who has been anywhere from a size 2 to a size 12-14, and everything in between as I've had babies, my body has changed a lot over the years. My tip is no matter what your size or shape is, nowadays you really can find something that you feel comfortable in. Choose something comfortable, avoid something too tight around the butt, middle or anywhere else, and just enjoy the physical body you have.
If you want some extra covering, you can grab a sarong, skirt, leggings ,or shawl if you're a woman, or a shirt if you're a man. 
A while ago, a girlfriend who was coming for my annual Vibrant Healthy Woman retreat in Tulum, Mexico (during non-COVID times) was self-conscious about her thighs. Rather than not coming, she found some cool water leggings and a tank top, so she wasn't thinking about it. Not that she had to – none of us would have cared. She could have worn anything from a skimpy bikini to a full-body wetsuit, and we wouldn't have minded. Wear whatever you feel good in, along with whatever accessories you please!
My dad has been health conscious of his skin my whole life. He wears a long sleeve shirt and long pants in the water, and he could care less if people stare. He cares more about his health than the opinions or approval of others. I appreciate that so much about him and seek to follow suit, in my own swimsuit (no full clothing swimming for me lol), but I do wear healthy sunscreen.
3) Remember that your body's a blessing, and you truly are a masterpiece! You are a spiritual being having a human experience; a living, breathing expression of the divine, not an object to be perfected.                        
Your creator has given you the perfect vehicle to give and receive the joys of life, so love your body – it's the only one you'll ever get.
Your body is a beautiful, sacred temple, and the chalice for your soul. Let's suck the marrow out of aliveness today, and really enjoy this incredible body we've been given! And let's trust that your higher power and my higher power have given us the perfect body for being the vehicle for our life's experiences.
Enjoy the beach, the pool, the lake, the swimming hole, the hot springs, or whatever other joyous activity you would love. You and your body deserve it!
And if you'd like to experience one of my favorite ways to enjoy more body confidence, I have a special invitation for you.
Join me for - TranscenDance™ Body Freedom class on Zoom!
When:

This Wednesday (July 22) at 5pm Pacific 

Cost:

It's very affordable (only $20, or $10 with the promo code

dancenow

if you're experiencing financial hardship)

Bonus:

You'll get a FREE recording of the class to watch again anytime you want! 

How to Register:

To register TODAY for the class,

click here

.
And if you'd like an immersion experience into more body confidence, I invite you to check out my TranscenDance™ Facilitator Training, happening in August! You can attend for personal empowerment, or for professional development, or both. Spots are filling up and the doors will be closing soon, so if you're interested in learning more then click here.
Now it's your turn. Have you experienced issues with your body confidence during bathing suit season? Did you overcome these issues, or are they still a struggle for you? What works for you to feel confident in a bathing suit or summer clothing? Leave a comment for our amazing community below. We love to hear from you!